"A tender, charming, and
deliciously diverting story
about love, marriage, and how your restaurant-review sausage gets made.
The Restaurant Critic's Wife
is compulsively readable and richly detailed, a guilt-free treat that will have you devouring every word."
—
Jennifer Weiner
, #1
New York Times
bestselling author of
Good In Bed
,
Best Friends Forever
, and
Who Do You Love
"Elizabeth LaBan's novel
The Restaurant Critic's Wife
stirs in love and intrigue making for
a savory delight
that pairs perfectly with your armchair.
Prepare to be charmed!
" —
Elin Hilderbrand
, author of
The Rumor
"A heartfelt and relatable look at a woman navigating the difficulties of marriage and motherhood—while struggling to maintain a sense of self. Written with charm, honesty, and an insider's eye into a usually hidden slice of the restaurant world. It's a winning recipe." —Sarah Pekkanen, internationally bestselling author of Things You Won't Say
"In her debut novel for adults, Elizabeth LaBan cooks up a delectable buffet about motherhood, friendship, ambition, and romance (albeit one in need of a little more spice). She captures the essence of life with small children (smitten with a side of hysteria) and weaves a relatable, charming love story with the
flair of an expert baker turning out a flawless lattice crust
. LaBan's four-star story has the satisfying effect of a delicious meal shared with friends you can't wait to see again." —
Elisabeth Egan
, author of
A Window Opens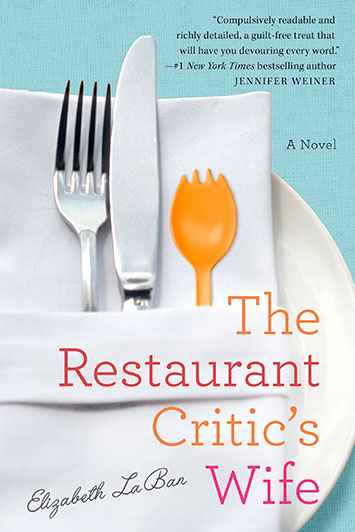 What could be better than being married to a restaurant critic? All those amazing meals at the best restauran…pure nirvana, right? Well, Lila Soto, the heroine of Elizabeth LaBan's charming new novel, The Restaurant Critic's Wife (Lake Union Publishing; January 5, 2016), might tell you otherwise. Sure the food is heavenly, but the downsides are considerable—especially being married to a man who is obsessed with his job and paranoid to the point of absurdity about being "outed" from his anonymity. Add to the scenario the fact that Lila has given up her own career to follow her husband's job to a new, unfamiliar city, and that she is now a fulltime stay-at-home mom—a gig she never aspired to, despite loving her kids—and you begin to see why Lila is doubting every life decision she's ever made.
Though it is not an autobiography by any means, it can't be overlooked that Elizabeth LaBan is herself married to Philadelphia restaurant critic Craig LaBan. "This book wouldn't exist without my husband," she says, "who brings excitement, adventure, love, and great food into our lives every day, and has always been open to my writing a novel about a woman who is married to a wacky restaurant critic. For the record, Craig is not obsessive or controlling like Sam—and Craig did not tell me to say that." But, even if her main characters are fictitious, there is no denying that Elizabeth draws on aspects of her own life to lend a delicious verisimilitude to the novel. The Restaurant Critic's Wife is a charming portrait of the complexities of life that many women face when dealing with their marriages, their children, their friendships, and their careers. All the talk about exquisite food is merely the icing on a one-of-a-kind cake.
Elizabeth LaBan lives in Philadelphia with her restaurant critic husband and two children. She is also the author of The Tragedy Paper, which has been translated into eleven languages, and The Grandparents Handbook, which has been translated into seven languages.
In her first novel for adults, Elizabeth LaBan proves adept at capturing the essence of our lives. I hope you will plan prominent review and feature attention and I look forward to discussing interview possibilities with you.